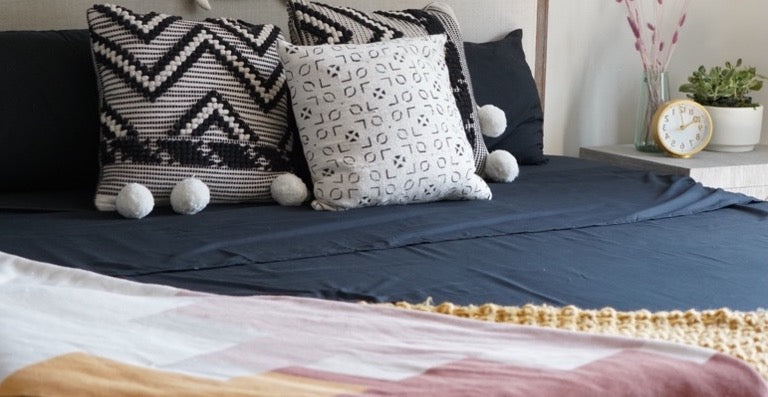 How to Accentuate Bold Sheet Choices
If you check out our PeachSkinSheets Classic Collection sheets you'll notice a plethora of traditional hues, but if you look closely, you'll also see that we've sprinkled in some bright, bold, vibrant shades that can really liven up your sleeping space. You might shy away from these colors because you don't know what to do with them or how to use them in your bedroom, but you shouldn't! We've created this guide to help you along.
Making the Most of Midnight Black
Midnight Black sheets might not be the first you'd consider for your bedroom, but that doesn't mean you should count it out. If you're searching for a subtle coziness in your space, black might be exactly what you're looking for. At the same time, because it's the absence of all colors and mimics the darkest of nights, it can help lull you to sleep when it's the color of your sheets.
The beautiful thing about Midnight Black is that it literally goes with anything. You can accentuate your sheets with patterns, textures, and colors across the entirety of your bedroom. It makes a great background for any color of decor. Consider the elegance that will embrace you if you:
Incorporate bedding accents such as throw pillows and blankets with gold or metallic designs.
Opt for brightly colored pillows to contrast with the dark sheets.
Utilize bold textures and patterns in ways that you simply can't do with other hues.
Create a palette of grays and whites on your walls to showcase a minimalist point-of-view.
Midnight Black sheets put the power of design right in your hands. You can get as creative as you'd like, and it's almost impossible to go wrong. If you've been dying to try stripes or polka dots, fuzzy textures, and metallic accents, give Midnight Black a shot. You'll be surprised.
Cozying Up in Chocolate Sheets
Chocolate is a nice, reliable color. Similar to the colors blue and green, Chocolate is reminiscent of nature and the very Earth we live on. It brings to mind feelings of warmth, comfort, and security, and, when accentuated properly, can be quite sophisticated.
Because brown is so neutral, Chocolate PeachSkinSheets Classic Collection sheets play well with both cool colors—such as baby blues, violets, and greens—as well as warmer colors—such as neutrals and yellows, oranges, and reds.
For an ultra-cozy sleep space, pair your Chocolate sheets with white and brown bedroom walls. The white accents help bring a comforting, calming feel into a bedroom.
Brown and blue is another popular combination, which creates an eclectic contrast that goes together perfectly. Consider pairing your Chocolate sheets with pastel blues to create a subtle-yet-stunning color combo.
Realizing the Beauty of Reds in the Bedroom
Red Velvet and Deep Crimson Red sheets are made for people who thrive on passion and love, which makes them perfect for the bedroom when used just right. You don't want to go overboard with reds, as these fiery hues can be associated with power and anger if they're used in abundance. This is why reds are perfect colors for your sheets. You can subtly add a pinch of passion without incorporating this strong, powerful color across your entire bedroom.
Consider painting a golden accent wall behind your bed to present a feeling of royalty and elegance. Make the remaining walls creamy white or with a tinge of gold to continue the luxurious effect. The thing is, red is never boring, so when you use these hues for your sheets, you'll instantly have a foundation of fun with which to play.
Here are some other ideas:
Incorporate black and white accents to balance the boldness of the red sheets.
Use light-colored walls to help keep your bedroom from being overpowered with these fiery colors.
Add fun accent pillows that are made of both neutrals (such as tans and browns) with various shades of reds. Don't be afraid to seek out patterns and textures!
Remember that red offers a splash of color on the bed in a way that provides the perfect little pop. If you want to tone it down, opt for neutrals in the rest of your room. If you want your bedroom to be loud and proud, incorporate lots of black accents.
Playing Around with Pumpkin Spice
What do you think of when you hear the phrase "pumpkin spice"? For many people, this phrase invokes the thoughts of warm sweaters, autumn days, and colorful leaves. When you incorporate Pumpkin Spice sheets into your bedroom scheme, you'll feel the same comforting warmth.
Pumpkin Spice sheets can bring a positive energy into your bedroom, as well as that cozy feeling you get when you put your favorite sweater on for the first time in months.
Psychologically speaking, Pumpkin Spice is the beholder of a youthful and playful mindset. It's a very social color that's meant to dissuade negativity and usher in feelings of positivity.
To accentuate your Pumpkin Spice sheets, try adding a complementary blue. Designers often use complementary colors on the color wheel to make big statements in all kinds of spaces. When you pair Pumpkin Spice with blue, you'll realize a dynamic, dramatic color scheme that's suitable for vivacious personalities. Layer the room with darker shades to add depth. You can do this by using lampshades, pillows, and other accessories that are created with hues slightly deeper than your Pumpkin Spice sheets.
If you're up for a true DIY project, consider painting your headboard in a unique blue to offset the warm tones of the Pumpkin Spice.
Have fun with your rugs. Place small colorful rugs on your floor to accentuate the colors in your sheets. Then, add a white accent color throughout. You can do this with table lamps, footstools, or accent walls.
Are You Ready to Explore Our PeachSkinSheets Classic Collection Sheets?
Browse our selection and order your free fabric swatches today! We can't wait to hear how much you love PeachSkinSheets!
LEARN MORE
Related Articles
How Often Should I Change and Wash My Pillowcase?
We're going to outline why it's important to prioritize clean pillowcases and answer that burning question - how often should you change out your pillowcases? Hint: it's more often than you might think.
Try the best bedding for night sweats
Order a free swatch and feel the difference for yourself.
SHOP HERE

GET THE LATEST UPDATES
Let's be friends