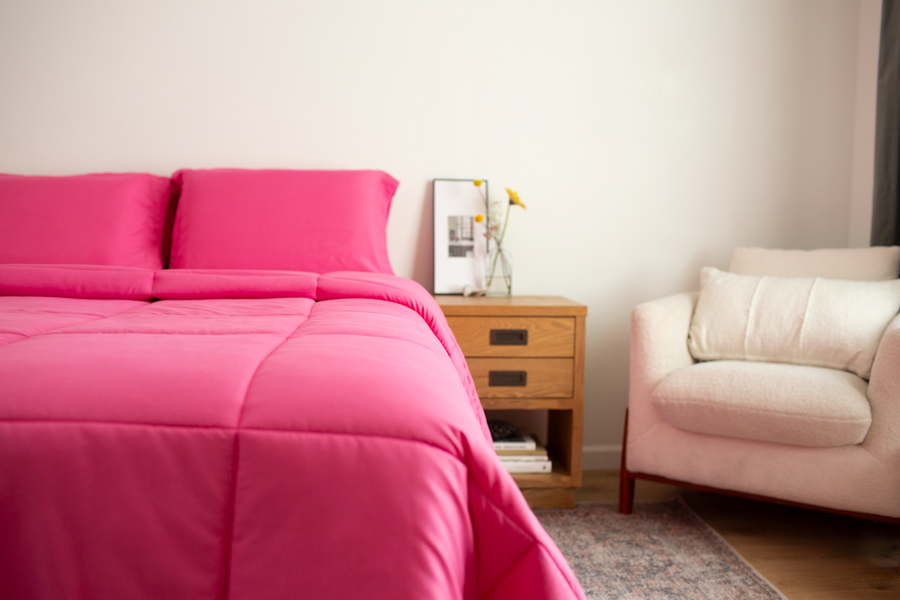 Life is a Vacation with the Caribbean Collection
It's no secret that going on vacation makes us happy. Whether you spend your time away from home exploring a new city, hiking mountains or relaxing by the water, a well-deserved trip away from home is associated with improved mental and physical health and an overall boost in well being and happiness. We're partial to a trip that involves a fruity drink in hand, the sun shining bright and the sand between our toes: a beautiful beach!
Unfortunately, vacations can't last forever and we all have to head home at the end of even the best trips. At PeachSkinSheets, we're always looking for ways to bring vacation relaxation into our everyday lives. Read our top tips for making life a little more like a tropical paradise.
Pick up a Good Book
One of our favorite parts of a great vacation is switching off and finally getting to dive into a good book. Whether you're into a steamy romance or a gripping thriller, reading has been found to reduce stress and promote tranquility. If that sounds good to you, bring the ritual of reading a book on the beach right to your home and get ready to bliss out.
Break out the Color Wheel
Colors can have a boosting effect on our mood and carry strong positive associations, so why not use colors to bring tropical vibes into your home? The brand new PeachSkinSheets Caribbean collection is available in eight vibrant colors, all inspired by our most loved tropical vacation memories. Evoke crystal waters with Bahama Blue, jungle blooms with Orchid Purple or days on the beach with Sunkissed Orange.
Make a Mocktail or Cocktail at Home
There's nothing that goes better with the sun, sand and sea than a delicious, fruit filled drink. Whether you're going for a refreshing mocktail or something a little stronger, making a fancy drink at home guarantees immediate vacay vibes. Bonus points if you serve it in a coconut!
Fill Your Home with Tropical Scents
We all know you can't beat the smell of a tropical vacation. Sea breeze, fresh fruits, coconutty sunscreen - yum! Scent is a powerful trigger for memories - including those from your vacations! Try choosing candles and home fragrances that will transport you right back to the beach - without having to hop in the car or on a plane.
Treat Yourself to 5 Star Hotel Quality Sheets
We love climbing into a crisply made hotel bed at the end of a long day of sun and surf. Luckily, great quality bedding isn't just reserved for hotels - you can bring 5 star luxury right to your own bed. Ultra soft PeachSkinSheets boast a 1500 thread count level of softness and will keep you cooler and drier, even on the warmest summer nights. Plus, with 30+ colors, you don't just have to stick with hotel white (even though that IS a best selling PeachSkinSheets color!)
We hope these tips will make you feel like you're lying on a pristine beach in no time (minus all that pesky sand). If you're in love with a great tropical vacation like we are, check out the new PeachSkinSheets Caribbean Collection and make your bedtime relaxation just a little more beachy and peachy.
LEARN MORE
Related Articles
How Often Should I Change and Wash My Pillowcase?
We're going to outline why it's important to prioritize clean pillowcases and answer that burning question - how often should you change out your pillowcases? Hint: it's more often than you might think.
Try the best bedding for night sweats
Order a free swatch and feel the difference for yourself.
SHOP HERE

GET THE LATEST UPDATES
Let's be friends