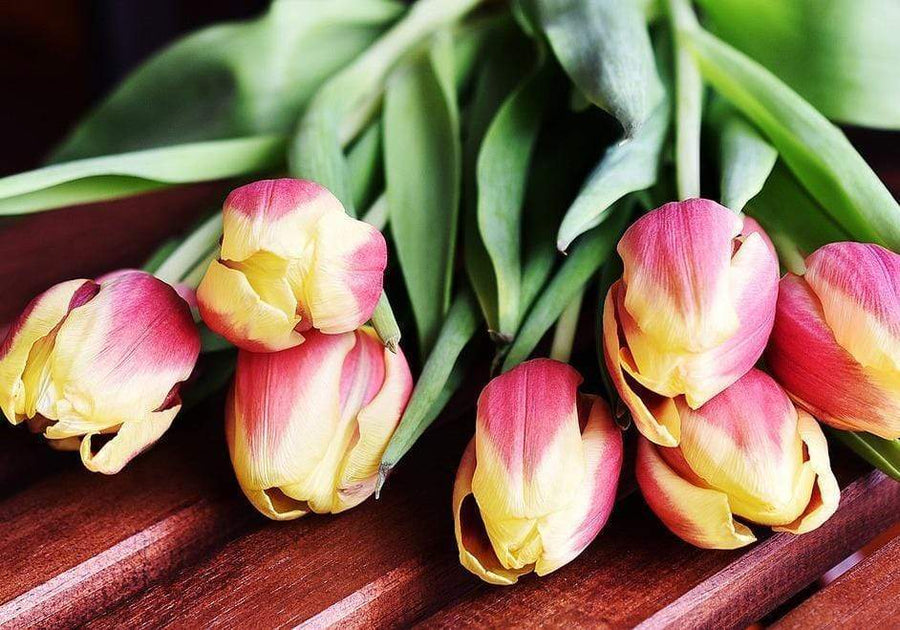 Tips for a Spring-Inspired Bedroom
Spring is just around the corner — and that means it's time to freshen the decor in your bedroom to welcome the season! Spring also means that warm weather is on the way. If you're a hot sleeper, experience night sweats, or simply prefer to get a good night's sleep in cool, comfy sheets, spring is the perfect time to freshen up your bedroom with ultra-soft, breathable PeachSkinsSheets in gorgeous spring colors. This year, why not spring for a luxurious look that's on-trend and freshens up your bedroom, just in time for the changing of the seasons?
STUNNING SPRING COLORS
Spring brings new life, as plants awake from their winter sleep and send out tender, green shoots and leaves. It also brings luscious flowers, with shades of gold, yellow and pink brightening up dormant flowerbeds.  
This spring, you can bring the outdoors into your bedroom with the best cooling sheets in shades of green and gold to match the season. These colors are perfect for this time of year, with soft, subtle Sage Green bringing the beauty of nature to mind, and Harvest Gold adding a shot of warm color. You can use these gorgeous colors to brighten your walls, add a splash of color to an accent piece, or even use PeachPerfectPaint Match to find a set of carefully chosen paint colors that complement your sheets.
Adding a fresh coat of paint is one of the easiest — and most budget-friendly — ways to transform your bedroom into a springtime bower. The options are endless: Paint all your walls, choose an accent wall, or paint one or two (or a few) pieces of furniture to create a unified look. 
FRESH FLORALS
Nothing says spring like flowers, and adding floral touches to your bedroom will complement your new color scheme. For some, less is more; if you prefer a minimalist look, consider framing a series of botanical prints in matching or complementary frames to create a gallery wall behind your bed. Add a vase of fresh blooms on your nightstand or dresser, and you're done. Simple! 
If you're dreaming of sleeping in a bower, take it a step further. Floral-print throw pillows add a colorful touch to your cool, comfy bed, making it even more inviting. Add a throw rug with a floral pattern, and you've got your own indoor garden. For even more blooming beauty, make your windows pop with colorful sheer curtains in a flowery pattern, or re-upholster a worn-out chair or ottoman with a chic floral fabric.
For the truly committed, wallpaper is making a comeback, and floral prints abound. Today's wallpaper is peel-and-stick, so it's much easier to install than the types you may remember from childhood, making it a fun, trendy choice. Not ready for such a big change? Consider wall decals; these vinyl stickers are easy to apply, easy to remove and offer an inexpensive way to transform a wall without the commitment. 
SPRINGTIME ACCESSORIES
Now that you've refreshed your color scheme and updated your bedding to ensure a comfortable night's sleep as temperatures rise, it's time to accessorize. Plants are an ideal way to bring the new season into your home. Flowering house plants such as orchids, hibiscus, African violets, anthurium and clivia add bright splashes of color and help filter the air. Don't have a green thumb? Consider cacti or succulents that don't need much water or care. Glass terrariums are another good choice for indoor plants, or, make a statement by creating a mini-garden using moss and succulents in a small birdbath.
If you've got an open tabletop or dresser top, create a mini-tableaux that screams spring! Paint a birdhouse in a bright color, then add a faux nest and eggs for a cute accent piece or decorate a wire egg basket with ribbon or twine for a rustic look. You can even decorate and get organized at the same time; arrange a grouping of ceramic egg cups that hold those little odds and ends, such as earrings, paper clips or spare change.
Finally, dress up your walls for the season. A simple coat of paint in the same color can transform a motley crew of mismatched picture frames into an attractive grouping. Similarly, filling frames with floral fabrics creates an artsy, designed look for just a few dollars. 
A COMFY, COOL SPRING BEDROOM
When it comes to updating your bedroom to reflect the spring season, the choices are endless. Starting with cooling, moisture-wicking sheets ensures that you'll get a great night's sleep in your newly refreshed room, even when the temperatures are on the rise.  
If you're ready to have the best sleep, PeachSkinSheets are the ideal choice. These soft, luxurious sheets wick moisture away, so you stay cool and comfy all night long, even when the temperatures are changing. Best of all, these lightweight, breathable sheets come in a range of colors, making it easy to create your dream bedroom this spring... and every season.  
Visit PeachSkinSheets to shop for your new favorite sheets today!
LEARN MORE
Related Articles
How Often Should I Change and Wash My Pillowcase?
We're going to outline why it's important to prioritize clean pillowcases and answer that burning question - how often should you change out your pillowcases? Hint: it's more often than you might think.
Try the best bedding for night sweats
Order a free swatch and feel the difference for yourself.
SHOP HERE

GET THE LATEST UPDATES
Let's be friends