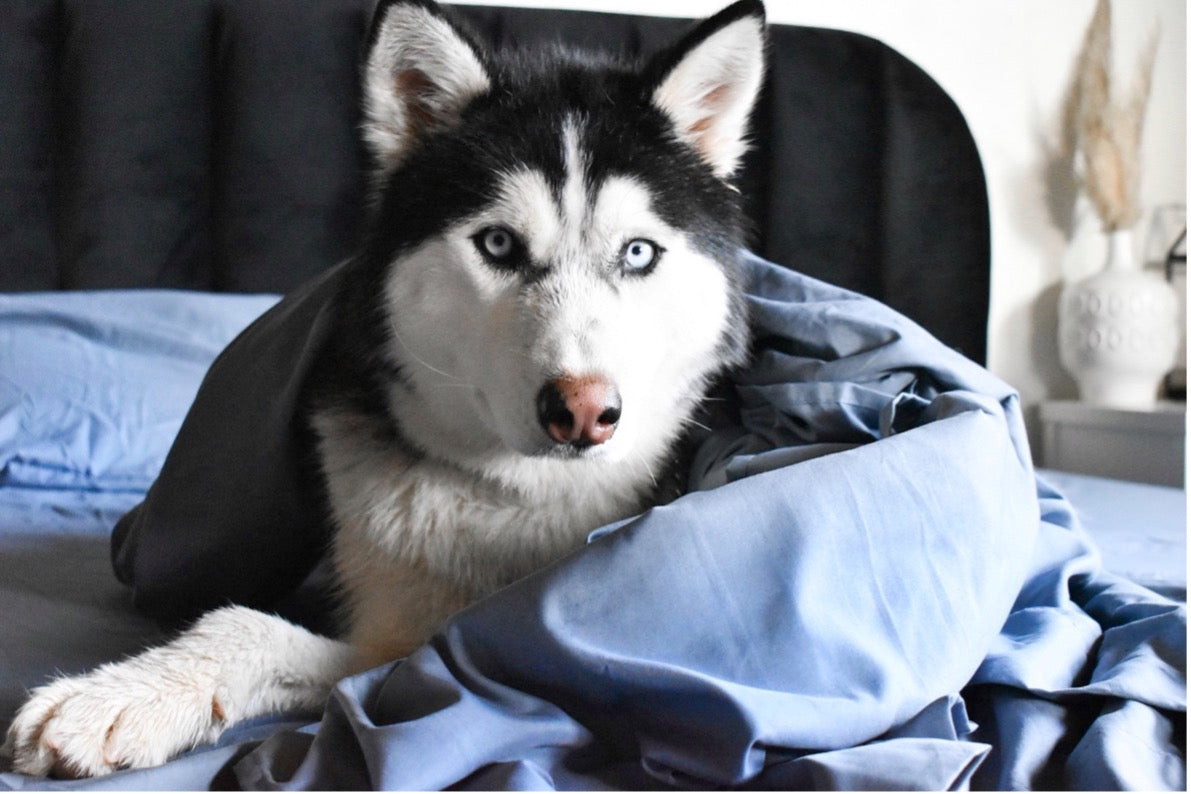 Why Have Blue Sheets in Your Bedroom?
When you're choosing the colors for your bedroom décor, it's important to choose soothing and relaxing options. After all, when you enter your bedroom, you want to enjoy feeling calm and safe before you drift off to sleep.
There's a reason many people in the world say their favorite color is blue. It's a color we see in the sky and the sea, and there's no end to the many different shades of this color. It's no wonder it's such a popular color in décor, particularly bedroom décor. And if you're looking for the perfect color for your sheets and bedding, blue is an excellent choice. Here's why.
The Color Blue
The color blue is one of the three primary colors, meaning it's not made up of other colors — it stands on its own. While you can find blue in many different shades, true blue is 100% blue with no green or red in it.
This beautiful color has a long history, and we see the color noted in language as far back as in Middle English blwe and Old French bleu. Although these words both describe the color, they technically are defined as "the color of the clear sky." The Old High Berman word blao, referred to the color and also means lustrous and shimmering. It's easy to see the association between the color blue and the sky and water.
Blue likely has one of the most resounding presences throughout the history of art of any color as well, spanning throughout many regions and time periods. The first documentation of blue being used for artistic purposes was the use of blue azurite for décor and jewelry in Ancient Egypt. Later the color would be used in China for fine porcelain and as a pigment in many Renaissance paintings as well.
The Psychology of Blue
Blue, a favorite color among many individuals, is usually viewed as a traditional, non-threatening color that brings feelings of serenity of calmness. Most people describe the color as secure, peaceful, and tranquil. Some additional color psychology notes include:
Blue brings to mind reliability and stability, which is why businesses often use it in marketing efforts.
While blue is a popular color, it's one of the least appetizing colors (which means it might curb appetite).
Blue gets used in unique ways throughout language, such as "blue blood," "blue moon," "blue ribbon," and "true blue."
Blues are often associated with fidelity and loyalty.
Shades of blue may be used in offices since some research shows that the color boosts productivity.
The color blue is the most preferred color by men.
Since so many people favor blue, many individuals view it as a conservative color.
Physical Effects of the Color Blue
Psychologically, blue is associated with feelings of peace and relaxation, and there's a reason why. The color blue physically lowers blood pressure, heart rate, and body temperature. It's also been found to affect the pituitary gland, slowing breathing and affecting sleep patterns.
Because of the color's ability to lower heart rate and blood pressure while affecting sleep patterns in a positive way, it's one of the best colors to put into a bedroom. Walking into a bedroom that features blue, including blue sheets, not only makes you feel serene and tranquil but physically causes those relaxing reactions that can help you sleep better at night.
Blue PeachSkinSheets
If you've decided that blue is the perfect, calming color to use in your bedroom, PeachSkinSheets offers several different shades of blue for you to consider.
French Blue Sheet Set – The French Blue sheets are a lovely cool gray-blue color that's a shade you likely think of when you hear the words "steel blue." If you're going with a cooler, elegant look for your bedroom and you tend to gravitate toward gray-blues, this shade is a perfect choice.
Beach Blue Sheet Set – These sheets are a lovely cool aqua, soft blue that is airy and light, perfect for a bedroom with a beach vibe. It doesn't have any green undertones, so it'll look great mixed with other shades of blues, too.
Mariner Blue Sheet Set – If classic dark navy blue is your style, you'll love this rich shade of navy for your sheets. It looks great with coastal décor and blue and white accessories throughout the room.
The PeachSkinSheets Difference
When you decide to go with blue PeachSkinSheets, you'll enjoy all the great benefits that come with these sheet sets. The brushed PeachSkin finish offers unparalleled, 1500-thread count levels of softness that feel great against your skin. The fabric is lightweight and breathable, offering you temperature control throughout the night, whether you're a hot sleeper or a cool sleeper. The state-of-the-art SMART Fabric used in PeachSkinSheets decreases sweating while you sleep, making these sheets an excellent choice for individuals who have night sweats. They eliminate the uncomfortable feeling of waking up in a puddle of sweat at night.
PeachSkinSheets also feature 22-inch deep pockets to fit nearly any mattress, they're pill-resistant, and they're tough enough to stand up to pets, kids, and years of use. They'll save you time, too. Once you wash them, they come out of the dryer with no wrinkles, so you get a neatly made bed without needing to take the time to iron your sheets. The fact that they are hypoallergenic and great for individuals with sensitive skin or allergies is an additional bonus.
Do you want to see which shade of blue will look great in your bedroom? Order your free swatches today to compare shades to your current bedroom decor. You'll not only get to compare shades easily, but you'll also enjoy experiencing our soft fabric for yourself!
Sources