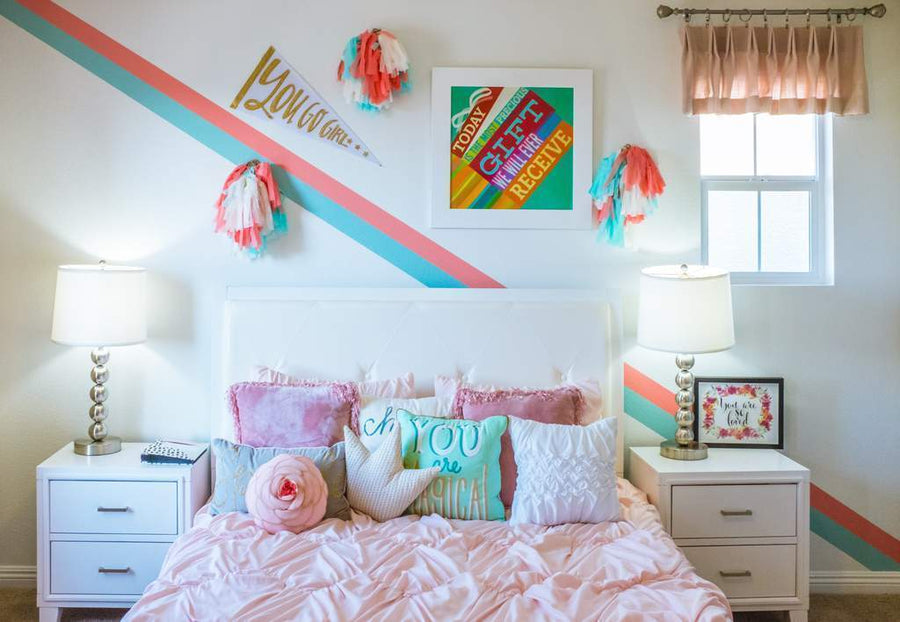 A Guide to Stylish Teen Bedrooms That Everyone Can Agree On
When it comes to teen's bedrooms, parents don't always see eye-to-eye. Disagreements on paint color, furniture arrangement, and organization (or lack of) can surely prevent teens from having a room they're content with. A teen's room is for more than just sleeping, after all. Their room is a place to retreat after a stressful day at school or any other variety of dramas in their life. The good thing is that your teen's room doesn't have to be a battleground! Here are a few basic ideas for teen bedrooms that'll keep both parents and children happy.
CONSIDER PERSONALITY
One of the first and most important things to consider is your teenager's personality. Are they the type who prefers a simple and clean room that shares the same decor as the rest of your home? Or are they bright and bubbly, wanting a vibrant room to match their personality? Heck, maybe they want their walls lined with posters. Teens want to decorate their rooms in a way that they can identify with.
CREATE A MULTIPURPOSE SPACE
You'll want to help them create a space where they can not only get good rest, but a place to hang out with friends or study for an upcoming test. It might help to think of their space as a mini apartment or dorm room. If the room is small on space, you can work vertically by using shelves or wall hanging cubbies for school supplies. They also may want plenty of seating room for when their friends are over - bean bags, futons, or large pillows work great for this. Brainstorm with your teen and see if you can create a mutually agreeable room design.
HELP THEM ORGANIZE
Let's face it, teens aren't the cleanliest of creatures. It's very common to find their room filled with laundry, trash, and clutter. One way to counter this is by devising ways to help keep their rooms organized with properly stored items. Even if your teen just throws their belongings into bins, it'll help with keeping their room looking tidy. A few storage ideas:
Dirty clothes hamper
Under the bed storage
Storage bench or ottoman
Shelves
Cubbies with baskets
GIVE THEM A COZY BED
Whether your teen sleeps on a twin sized bed, a loft bed, or a futon, you'll want to get them set up with comfortable bedding to sleep in. There are a variety of blankets and comforters to choose from. A good set of pillows wouldn't hurt either. High quality sheets can also go a long way in providing your teen with a good night's sleep. Durable, breathable, and antimicrobial sheets like PeachSkinSheets are perfect for a teen's bed. These sheets come in a wide assortment of colors that can be matched to just about any color theme they choose.
Your teen can have a fun, functional, and stylish room that you both are cool with. A balanced mix of self-expression and organization can help reduce conflict and allow your teen to enjoy their personal space for years to come.
LEARN MORE
Related Articles
How Often Should I Change and Wash My Pillowcase?
We're going to outline why it's important to prioritize clean pillowcases and answer that burning question - how often should you change out your pillowcases? Hint: it's more often than you might think.
Try the best bedding for night sweats
Order a free swatch and feel the difference for yourself.
SHOP HERE

GET THE LATEST UPDATES
Let's be friends