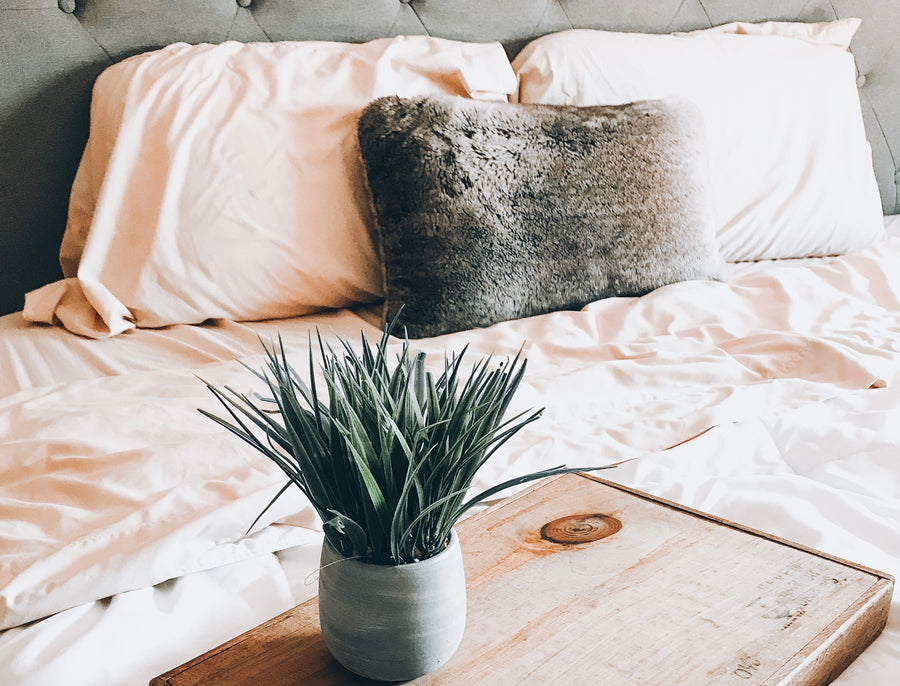 How to Choose Bed Sheets for Fibromyalgia
When you think of potential ways to get more comfortable when suffering from Fibromyalgia, choosing a certain type of bed sheet may not be top of mind. But here's why it matters…
What is Fibromyalgia?
Fibromyalgia — a chronic condition characterized by widespread pain throughout the body — is believed to occur due to a malfunction in the way the nervous system processes pain signals. Along with pain, common symptoms include mental fog, fatigue, depression, and many more. Since pain and additional symptoms are so common with so many medical conditions, it often takes a significant amount of time to reach a fibromyalgia diagnosis.
Tenderness and pain throughout the joints and muscles of the body is the biggest symptom, and it often shifts from place to place. Unfortunately, despite the fatigue linked to fibromyalgia, the pain and additional symptoms often make it tough to enjoy a good night of rest. Although it's essential to figure out a good treatment plan with a physician, choosing the right fibromyalgia bed sheets may help improve sleep, too. Here's a closer look at some important considerations that can help you choose the best bed sheets for fibromyalgia.
Soft Sheets to Combat Pain
The number-one symptom of fibromyalgia is widespread pain, and the pain may be aching, deep, throbbing, dull, or sharp. Most people experience it in joints, muscles, and throughout the body. Some individuals have tender points, too, which are specific areas around the joints that hurt when pressed. For some, rough clothing or bedclothes against their skin is enough to exacerbate the pain and tenderness.
Soft sheets are essential if you deal with fibromyalgia pain. You want smooth, soft sheets that won't cause you pain while sleeping. PeachSkinSheets have a brushed PeachSkin finish on both sides of the sheets, offering a 1500 thread count level of luxurious softness. You don't have to break them in by washing them multiple times to get that softness either, since they're super soft right out of the package.
Moisture-Wicking Sheets for Night Sweats
Night sweats are also common among individuals who have fibromyalgia. The problem with night sweats is that if you're sleeping on cotton sheets or many other types of fabrics, all that moisture is absorbed, and you're left in soggy, damp sheets. Waking up in a puddle of sweat ruins a night of sleep, and then you have to decide if you change the sheets or try to sleep in the damp sheets — not a great choice in the middle of the night.
PeachSkinSheets are bed sheets made from athletic-grade performance, airy, lightweight poly fiber designed to wick moisture away instead of absorbing it. They even help decrease sweating while you are asleep. Temperature-controlled fabric ensures that hot sleepers stay cool through the night, but they also keep cool sleepers nice and cozy, which helps if you have a partner who's always cold.
Anti-Microbial and Hypoallergenic for Skin Problems
Another common symptom of fibromyalgia is skin problems and sensitivities, such as burning or itching. This means that going with sheets that are hypoallergenic is essential. Hypoallergenic bed sheets are excellent for anyone with skin problems, allergies, eczema, or even sensitive skin. Along with being hypoallergenic, PeachSkinSheets are also anti-microbial, which means they prevent pollen and dust from adhering to the fabric and making skin issues or allergies worse.
Encouraging Better Sleep to Address Fatigue and Sleep Problems
The majority of individuals who have fibromyalgia deal with fatigue and difficulty sleeping. There's a lingering feeling of being drained and tired, making it difficult to do normal daily tasks. Despite the fatigue, most have a tough time sleeping at night. Fibromyalgia may make it hard to stay asleep at night, and even when you do sleep, you may wake up feeling exhausted instead of refreshed.
Several different issues make it difficult to sleep if you have fibromyalgia. First, the pain, if it's not controlled, may make it tough to sleep at night. Some research shows that individuals with fibromyalgia also get interrupted by bursts of brain activity throughout the night, reducing the amount of time spent in a deep sleep. Restless leg syndrome affects some people with fibromyalgia, too, and can make it difficult to sleep because you constantly feel the urge to move your legs to make them more comfortable.
Although the right sheets won't eliminate these problems, sheets that encourage better sleep can offer some help. Breathable lightweight fabric that's temperature-controlled helps create a better environment for sleeping. Extraordinary softness also helps soothe the body, making it easier to fall asleep and stay asleep at night.
Fibromyalgia Bed Sheets – The PeachSkinSheets Difference
Currently, there's no cure for fibromyalgia, but you can take steps to reduce and manage symptoms. Having the right bed sheets for fibromyalgia can help. Beyond the previous benefits, PeachSkinSheets offer a number of excellent advantages that make them worth adding to your bedroom.
They're not only soft, but they're also pill-resistant, which means they won't pill over time and start irritating your skin. When you're already fatigued, the last thing you want to think about is ironing wrinkly sheets, and you won't need to worry about that with PeachSkinSheets. They're wrinkle-resistant and come out of the dryer with no wrinkles, so you get a neatly made bed without spending all that time trying to iron your sheets.
PeachSkinSheets come with extra-deep 18-inch pockets, too, so they easily fit most mattresses. With a wide range of beautiful colors available, you'll find something that matches your bedroom décor, and the colors don't fade in the wash, which means they'll look great for years. Additional benefits include superior durability, pesticide-free fabric, naturally stain-resistant fabric, and fabric that won't shrink.
Are you ready to try the PeachSkinSheets difference yourself? Order your PeachSkinSheets free fabric swatches today to feel the extraordinary softness and see how the colors look in your own bedroom!

Sources
LEARN MORE
Related Articles
How Often Should I Change and Wash My Pillowcase?
We're going to outline why it's important to prioritize clean pillowcases and answer that burning question - how often should you change out your pillowcases? Hint: it's more often than you might think.
Try the best bedding for night sweats
Order a free swatch and feel the difference for yourself.
SHOP HERE

GET THE LATEST UPDATES
Let's be friends