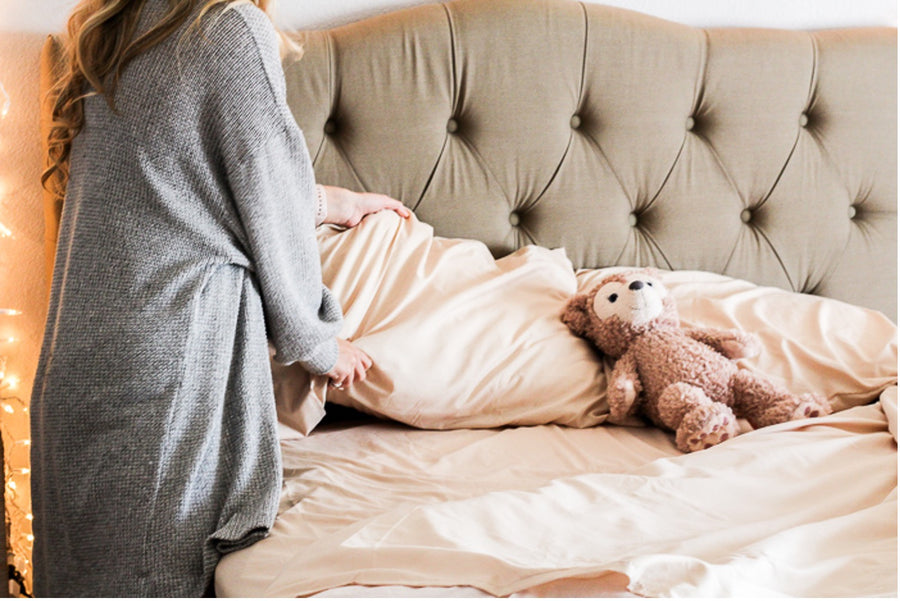 What Bed Sheets Are the Softest? And Why Does It Matter?
Many modern sheet manufacturers have everyone going on a wild goose chase in an effort to find the sheets with their highest thread counts. Unfortunately, when it comes to finding the ultimate in soft sheets, that's not even close to the only factor that matters. Many different things go into creating sheets that feel ultra-soft to the touch and stay that way through every wash. Ready to find out the true secret behind soft sheets? Take a look at this guide.
The Magic of Performance Sleep Fabric
The difference between tossing and turning all night long and a great night's sleep is performance sleep fabric. When you have this high-quality polyfiber SMART fabric on your side, you can truly feel the magic and wake up feeling refreshed and rejuvenated. Each fiber used to create this fabric is thinner than silk, allowing it to be tightly woven while still letting air flow through.
As a result, this performance sleep fabric is moisture wicking, hypoallergenic, and incredibly soft to the touch. Since it is breathable and lightweight, the sheets help control your temperature and keep you from overheating. That's great news if you have night sweats or often feel way too hot while lying in bed.
With their luxe PeachSkin finish, these sheets never slip off your bed even if you have pets joining you for a bit of rest. Beyond that, they get softer than the day you bought them, wash after wash. In fact, even after going through tons of wash cycles, these sheets are pill resistant to keep those irritatingly rough balls from forming on the surface. So, you can trust that they'll stay soft and comfortable through years of use.
1500 Thread Count Level of Luxurious Softness Experience
Smart sleep performance fabric keeps you cool, dry, and comfortable all night long, but what takes its softness to the next level? The secret lies with the reversible brushed PeachSkin finish.
With luxurious PeachSkin along both sides, you get the softness afforded by ultra-expensive 1500 thread count sheets – but without the ridiculously high price. The proprietary brushing process makes them feel instantly soft right out of the package. There's no break-in period to get through before you can enjoy the excellent sleep experience that soft sheets provide.
Although it might not seem possible, the brushed finish becomes softer with every wash. Their soft, smooth fibers never allow pet hair to get stuck in the fabric, keeping them wholly hypoallergenic through years of use. The SMART fabric is also anti-microbial to protect your skin and overall health as you focus on getting a great night's rest.
Benefits of Putting Soft Sheets on Your Bed Every Night
Overall, you need about eight hours of sleep each night to restore your mind and body. But it doesn't matter how long you spend in bed if your quality of sleep is lacking. Thankfully, truly soft sheets can change that.
When you commit to getting the softest sheets money can buy, you can improve your sleep quality in amazing ways. Even after the very first night, you'll likely notice just how much better you feel upon waking up in the morning.
In addition, you're sure to enjoy a variety of benefits like:
Waking Up in a Better Mood
When you don't get enough quality rest each night, it's likely you'll wake up groggy, cranky, and anything but ready for the day. If you have soft sheets that allow you to get a full eight hours of rejuvenating rest, all that changes. You'll hop out of bed in a great mood and with all the energy you need to tackle the day's activities.
Improving Your Daily Performance
With a clear mind, good mood, and excellent energy on your side, nothing can stand in your way. You can concentrate with the best of them and put your memory to the test without fail. All that adds up to exceptional productivity in your work and daily life. With that, you can watch your efforts pan out as you achieve great results in all your endeavors.
Getting an Immune System Boost
Your immune system does the heavy lifting at night and uses the energy created while you sleep to keep fighting all day long. So, if you can get in eight quality hours of rest without tossing and turning all night long, your system has the power to fight off the germs that come your way. When you have ultra-soft sheets, getting great sleep is super easy. And the results are even better if the sheets help support your health with their hypoallergenic and anti-microbial properties.
Protecting Your Health
When you sleep, your body gets to work on repairing all the damage that occurred in the previous day. It replaces old or sick cells with healthy ones, plus balances all of your hormones, including the stress hormone, cortisol. As a result, quality rest can help boost the strength of your heart, keep weight gain at bay, and improve your overall health in many other ways.
With all of these benefits within reach, it's easy to see why getting soft sheets should be a top priority. Thankfully PeachSkinSheets can help you achieve the quality rest you need, and with just a few clicks of a button, you can have the softest sheets sent straight to your door.
Convinced? Try PeachSkinSheets Softness
When you want soft sheets that will make all your dreams come true, try PeachSkinSheets! We always offer our hottest options as Colors of the Month, and you can test out the colors you like via free swatches.

Sources
SCLHealth
.org
WebMD
VeryWellHealth
Health.gov
LEARN MORE
Related Articles
How Often Should I Change and Wash My Pillowcase?
We're going to outline why it's important to prioritize clean pillowcases and answer that burning question - how often should you change out your pillowcases? Hint: it's more often than you might think.
Try the best bedding for night sweats
Order a free swatch and feel the difference for yourself.
SHOP HERE

GET THE LATEST UPDATES
Let's be friends