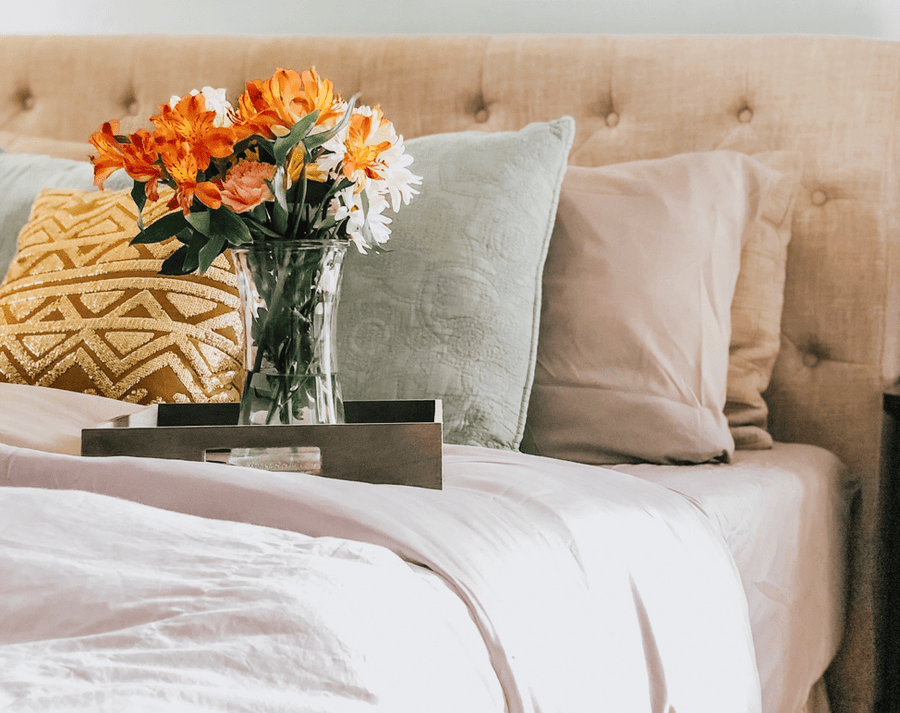 Duvet Cover Sets: What to Look For
Your bedding plays an incredibly important role in the overall peace and well-being you provide your body. If you treat it as an afterthought, you might find yourself tossing and turning in the midnight hours. If you pick the perfect bedding pieces, however, you're more likely to sleep like life is, well, a dream.
Most people put the majority of their bedding decisions into the sheets. Soft sheets are incredibly important – trust us, we know! - but don't discount the significance of a great duvet cover set. This is the proverbial icing on your soft sheet cake.
To help you pick the right duvet cover for your unique needs, we've compiled this helpful guide.
Why Is a Duvet Cover Set Important?
Before we dig into the details, let's start with the most important question: What exactly is a duvet cover, anyway?
As the name suggests, a duvet cover is the protective outer layer that houses the snuggly, comfy duvet within its exterior fabric. The duvet itself is the fluffy thing that keeps you warm and embraced throughout the night, but due to their hefty weights and sizes, duvets can be extremely expensive to clean.
That's why duvet covers are so important. They enable you to get the most longevity out of your duvet without worrying about constant costly trips to the dry cleaner. Duvet cover sets simply slide over the duvet, protecting the inner materials in the same way a pillowcase protects the pillow that lives beneath its fabric. You can easily take the cover off your duvet and toss them into the washer on laundry day.
How Do You Pick a Duvet Cover Set That's Right For You?
When's the last time you closed your eyes and purchased a set of sheets without having any information about the color, size, or thread count? Chances are, that's not common practice in your house because these are important elements in ensuring the sheets that land atop your mattress are just right for your personal preferences.
The same principles apply when you're shopping for duvet cover sets. They're not all alike, and if you go into the buying process without an idea of what to look for, you might find yourself facing a disappointing sleep situation.
1. Softness
Because duvet covers take the place of top sheets that would otherwise be used with traditional comforters, you'll want to find a fabric that invites your skin to touch it.
When it comes to bedding, the softness of the fabric is paramount.
Higher thread counts tend to elicit a softer, more luxurious feel against the skin than lower thread counts. Thread counts typically range from 200 to 800, but you don't have to settle for triple-digit numbers. The softness of our PeachSkinSheets' Performance Sleep Fabric is akin to an extraordinary 1500 threads per square inch!
2. Size
Size really does matter. If you get a cover that's too large, your duvet will be floating around inside with a bunch of extra space on all sides. If you purchase a cover that's too small, the duvet won't fit inside without getting pushed into a position that detracts from its clean look.
Duvet cover sets are sold in standard bedding sizes, but you'll notice the measurements are slightly larger than the covers they house. The perfect cover enables the duvet to fit snuggly into its protective layer without excess room. A king duvet cover set, for example, typically measures about 93" x 108", which is large enough to hold the 92" x 104" duvet that'll live between its layers. Similar proportions will be found with all sizes of duvet cover sets, including twin, full, and queen.
3. Durability
Your duvet cover has a big job; it might be subjected to tugs-of-war during the nighttime hours or maybe it'll have kids and pets pounce on it when the sun starts to shine. It'll cover you when you're not feeling well and keep you feeling snuggly every time you need a good night's sleep (which is obviously every night!).
No matter how much you spend on your duvet cover, you want to be sure it'll last a good long while. Don't be fooled by astronomical price tags, however. You don't have to pay an arm and a leg to ensure you purchase a duvet cover that's characterized by high-quality construction; you just have to know what type of elements signify a well-made design.
Ties at each corner. Ties at each corner of your duvet cover will allow you to secure your cover to the duvet itself, preventing shifting and bunching.
Closure features. Buttons or zippers also help duvet covers keep their contents in place and inside the cover. This is important because the cover exists to keep the dirt and oils that are on your skin away from the duvet; if it creeps out and comes into contact with your body, it's defeating the purpose of having a protective layer on it in the first place.
Anti-pilling fabric. Fabric that pills features those unpleasant, bothersome roly poly balls that not only make the material unattractive; they don't feel good when your skin rubs against them. The result usually means people cash in on their covers in favor of brand new ones. Obviously, this is an expensive tactic, and if you're not opting for anti-pilling fabric, the situation's just going to keep happening over and over again. Fortunately, you can forego unnecessary aging of your duvet cover set by simply opting for polyfiber material that's designed to do your bedding justice from the very beginning.
Your perfect duvet cover set is waiting for you at PeachSkinSheets! Get ready to get comfortable. Shop now!


Image via @brittttanyjohnson on Instagram
LEARN MORE
Related Articles
How Often Should I Change and Wash My Pillowcase?
We're going to outline why it's important to prioritize clean pillowcases and answer that burning question - how often should you change out your pillowcases? Hint: it's more often than you might think.
Try the best bedding for night sweats
Order a free swatch and feel the difference for yourself.
SHOP HERE

GET THE LATEST UPDATES
Let's be friends