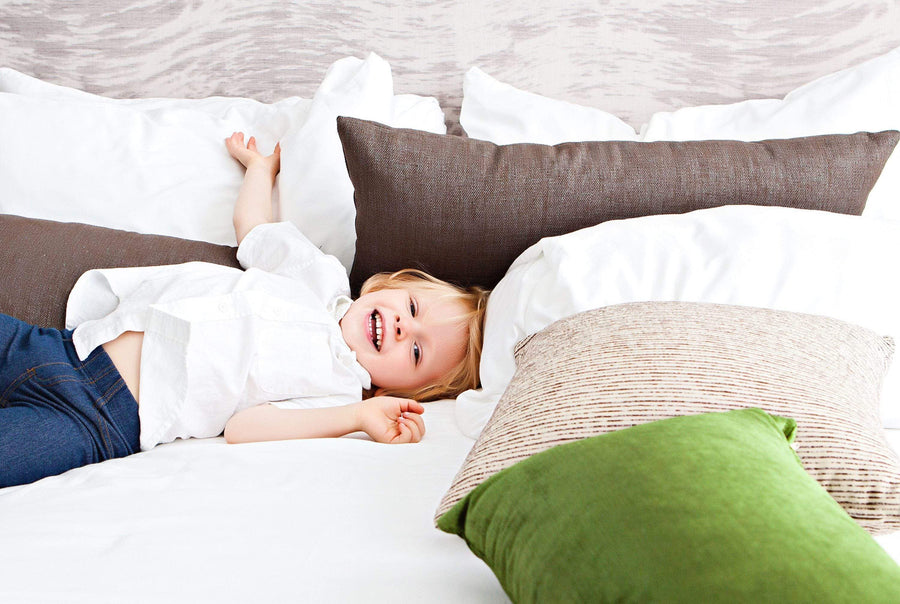 Anti-Microbial Sheets: 5 Important Things to Know
If you were lucky enough to make it out of the cold and flu season unscathed, you fared better than most of the country. Of course, if you did succumb to the germs that were floating around, you certainly weren't alone. Now that the nasty cold weather is finally on its way out, there's more potential to feel sick: allergy season.
It seems as if our bodies are always forced to battle foreign substances that can shut down our immune systems and make it hard to breathe (or even function) like normal. Antibacterial sprays and antihistamine medications can only do so much; if you truly want to protect your house, you may have to do a top-to-bottom materials change, which includes giving your bedding a layer of love that'll help combat the stuff that can infiltrate your body without an invitation.
This is why you need anti-microbial sheets by PeachSkinSheets.
Anti-microbial sheets offer a snuggly-soft barrier against the bad elements that are found in the environment. Traditional materials like cotton, satin, low-end microfiber and bamboo can keep you warm, but they can't keep the nasty stuff like dust mites from sticking to them. Anti-microbial sheets, on the other hand, are designed to do just that. They surround you with comfort and care that's free of microscopic creatures and mites. It's all thanks to the SMART performance fabric from which they're created.
If you're considering anti-microbial sheets, here are a few important things you should know:
1. They're Great for People with Skin Conditions
If you suffer from dry skin, eczema or another skin condition, your sheets may be worsening your situation. Many fabrics contain pesticide treatments and chemicals that can cause sensitive skin to flare up and become itchy, uncomfortable or even unbearable.
Anti-microbial fabrics don't contain any skin irritants. They're soft, supple and easy on all types of skin.
2. They're Anti-Pill
Have you ever slipped into a soft set of satin sheets, only to discover the rough edges of your heels have made the bottom of your sheets burdensome? In fact, most types of sheets will pill when they're given the opportunity to do so. Pilling can turn even the softest sheets into an uncomfortable situation when balls of fabric start to build up.
Besides being anti-microbial, sheets made from performance fabric are also anti-pill when cared for properly. You can wash them as much as you want (more on that here) and they aren't going to bother you with fabric balls; they're going to keep their second-skin look and feel for as long as you have them. However, it is recommended to rotate your sheet sets and sheet position itself to prolong the life of your sheets against normal wear and tear, which can break down the anti-pill finish over time. Also be sure to follow all washing instructions.
3. They Keep the Nasty Things Away
The whole intention of anything that's anti-microbial is to keep small mites at bay. Many people don't realize how much dirt, dust and pollen accumulates on their bed linens — let alone the living creatures like mites, fungus and mildew.
These are all very real things on the sheets in the homes of most people, but if you have anti-microbial sheets, you don't fall into that statistic. SMART fabric prevents the accumulation of all of the above.
With anti-microbial sheets, you can quite literally breathe easier knowing you don't have colonies of creatures clinging to your bedsheets. As an added bonus, not only will you be able to breathe better, but you might even enjoy clearer skin, given that many acne-causing bacteria love to live in the fibers of traditional bed linens.
4. They Don't Shrink or Wrinkle
If you've ever dealt with the frustration of trying to put sheets on your bed that are too small to cover the space after the initial wash, we feel your pain! Some materials simply aren't meant to be washed and dried, which certainly doesn't say much for brands that specialize in bed linens.
Our revolutionary SMART fabric is shrink, wrinkle and fade-resistant. It'll look just like it did a year from now as it did when you took it out of the package, even if you've washed it a hundred times. Our sheets stay silky-smooth and have a wrinkle release that's activated in the dryer, which makes them perfect not only for guest rooms that don't get a lot of use, but also for high traffic main bedrooms.
5. They Wick Away Night Sweats
Does your partner's body temperature operate at a completely different level from your own? It's hard to share sheets when two people have completely opposing body temperatures, but our anti-microbial sheets have a solution! PeachSkinSheets proudly keep cold sleepers comfortable while simultaneously ensuring hot sleepers stay cool. It's the best of all worlds!
Don't let microorganisms get the best of your in-bed experience! Your sleep should be sound, comfortable and safe, no matter the season. If you're ready to get the best rest possible while keeping the germs and mites at bay, browse our collection today!
LEARN MORE
Related Articles
How Often Should I Change and Wash My Pillowcase?
We're going to outline why it's important to prioritize clean pillowcases and answer that burning question - how often should you change out your pillowcases? Hint: it's more often than you might think.
Try the best bedding for night sweats
Order a free swatch and feel the difference for yourself.
SHOP HERE

GET THE LATEST UPDATES
Let's be friends