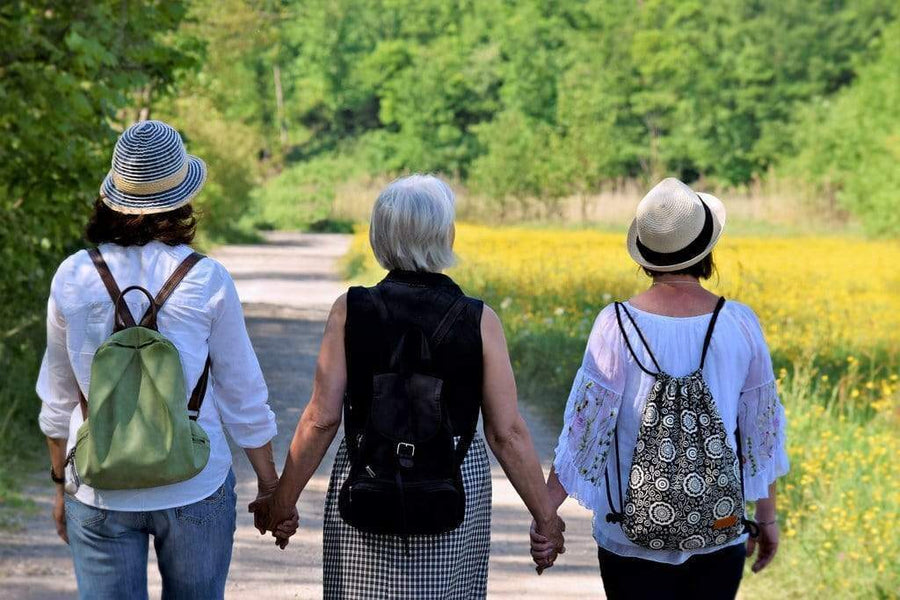 The Menopause Survival Guide
While many people are pulling out the warm flannel sheets for winter, you may be wondering if someone sells menopause sheets in fall or winter colors. When you spend the entire night sweating, the last thing you want is to add hotter sheets to the bed. Sure, it might be chilly outside, but it doesn't feel that way when the hot flashes and night sweats hit you head to toe. The good news — you don't have to pull out the flannel sheets, and there are bed sheets for menopause available!
We've put together this menopause survival guide to help you out if you're frustrated with the unwelcome, uncomfortable symptoms that show up with menopause. 
Understanding What's Going on With Your Hormones
Menopause refers to the time when you've gone a full year without having a menstrual period. While it can happen in your 40s, 50s, or 60s, the average age for menopause is 51 within the United States.
Understanding what's going on with your hormones during menopause can help you understand why you're dealing with so many different symptoms. When you're born, you're born with all of the eggs you'll ever have. You probably know that your eggs are located in your ovaries, and the ovaries are responsible for producing progesterone and estrogen. As your eggs are ovulated, or they die off, your ovaries begin to fail, and this leads to menopause.
When this occurs, levels of estrogen decrease. Once you start skipping months of menstruation, you can go for months at a time with little to no progesterone production. In the body, both progesterone and estrogen need to exist to have the right balance. As your ovaries release less of these hormones, it also has the potential to affect other hormones in your body. This is why a simple "change" in those reproductive hormones has such a significant effect on the rest of your body.
Common Symptoms of Menopause
Since changes in hormone levels affect your entire body, most women during perimenopause and after menopause deal with a variety of uncomfortable symptoms. Some of the most common symptoms of menopause include:
Hot flashes
Chills
Weight gain
Vaginal dryness
Mood changes
Dry skin and thinning hair 
Loss of breast fullness
Keep in mind, symptoms can be different for every woman and can change throughout perimenopause and post-menopause.
Tips for Surviving Menopause Symptoms
While many of the symptoms of menopause are temporary, they're difficult to deal with while you're experiencing them. Beyond buying menopause cool sheets, the following tips can help you survive those frustrating symptoms:
Learn What Triggers Your Hot Flashes – Once you've experienced a hot flash, you never want to do anything to trigger them or make them worse. Every woman's triggers can be a bit different, but some of the most common triggers include:
Caffeine
Alcohol
Hot beverages
Spicy foods
Hot weather
Warm rooms
Stress
Chocolate 
Smoking
Stay Hydrated – The excessive sweating that comes with hot flashes and night sweats increase your risk of dehydration. While proper hydration is always important, it's even more critical during menopause. In fact, not drinking enough water has the potential to trigger hot flashes. Hydration not only helps prevent more hot flashes, but it also keeps the brain sharp and can even reduce problems with mood swings.
Exercise to Reduce Symptoms and Improve Sleep – According to Mayo Clinic, exercising during and after menopause may help to reduce symptoms and improve your sleep at night. It also helps to prevent weight gain that often comes with menopause, strengthens bones, and offers one of the best ways to fight mood swings. Exercising regularly also helps protect against diabetes, heart disease, and other health problems associated with aging.
Reduce Stress with Deep Breathing – Stress can be a trigger for menopause symptoms like hot flashes and night sweats. Combat stress in your life with deep breathing, which some studies have suggested may help reduce stress and minimize night sweats. Other great options for stress reduction include meditation, guided imagery, progressive muscle relaxation, massage, and yoga. 

Create Your Own Hot Flash Kit – For some women, hot flashes actually get severe enough to interfere with daily life. Stay on top of them by having your own hot flash kit on hand. Some great things to put in your kit include:
Cold water bottle
Some extra face wipes
An extra cool shirt 
Travel-sized deodorant 
Mini personal fan
Invest in Cool Sheets for Menopause – No matter what you do, sometimes it's tough to beat the hot flashes and night sweats. Make these symptoms a bit easier to survive by investing in menopause cool sheets. Cool sheets made of polyfiber perform significantly better than cotton and other fabrics in drying and cooling. This tightly woven material actually repels liquids, wicking away sweat and drying quickly at night. Not only will you be more comfortable at night, but polyfiber sheets are luxuriously soft, strong and durable, and their colors continue to stay vibrant after every wash.
While menopause symptoms generally ease up over time, some women deal with hot flashes and other symptoms well into their 60s and 70s. Learning how to manage your symptoms and survive the frustrating night sweats and hot flashes is essential. Try learning your triggers, hydrating more, staying active, combating stress, creating a hot flash kit, and investing in comfortable bed sheets for menopause to improve your ability to cope with "the change."
To learn more about sheets that can keep you cooler and drier in the midst of menopause, checkout PeachSkinSheets today! You'll be glad you did!
LEARN MORE
Related Articles
How Often Should I Change and Wash My Pillowcase?
We're going to outline why it's important to prioritize clean pillowcases and answer that burning question - how often should you change out your pillowcases? Hint: it's more often than you might think.
Try the best bedding for night sweats
Order a free swatch and feel the difference for yourself.
SHOP HERE

GET THE LATEST UPDATES
Let's be friends